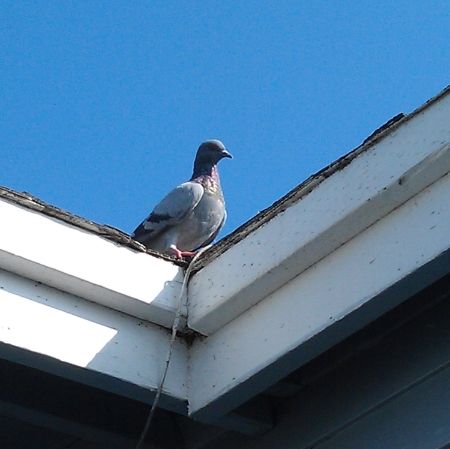 Birds are creatures of habit. If they have found a food source in your yard, they will continue returning to your yard until you get serious about getting rid of birds from your yard. Getting rid of birds means implementing a bird control plan to force a change in their behavior. Most migratory birds are federally protected under the Migratory Bird Treaty Act so safe and human bird deterrents are needed when getting rid of birds around the home.
Getting Rid of Birds – Safely and Humanely
The best way to alter a bird's behavior is to make it impossible for them to roost and nest anywhere. There are many bird control products that will safely and humanely deter the pest birds from different areas around your home.
For eaves, canopies and awnings, a physical bird deterrent such as bird spikes or a bird slope would be ideal bird deterrent products that will solve the problem of getting rid of birds. Bird spikes and bird slopes are ideal for blocking the birds from roosting. Bird spikes create an uneven surface where the birds cannot land. They are screwed, glued or tied down, so the average homeowner should have very little trouble installing this type of bird control method. Bird slopes block the birds from their roosting site. The slanted PVC plastic will create a slippery slope that the birds do not land on. They can be easily glued into place using an outdoor polyurethane adhesive.
Windowsills and ledges are locations where the birds also like to roost. Bird spikes can also be applied to this location, or a liquid bird gel can be applied if the problem is from larger pest birds. Bird gel is a transparent bird deterrent that is non-toxic and is very sticky and it prevents the larger pest birds such as pigeons and starlings from landing comfortably. It can be used on any horizontal surface.
Rooftops are also notorious for attracting the roosting bird. By applying bird spikes to this location as well, will help in getting rid of birds that are larger, like pigeons, gulls and crows. What will also work well is wind powered bird deterrents that will spin and stop birds from landing. There are solar powered deterrents that spin continuously, or wind powered. Both types are ideal for rooftops, A.C. units, skylights and chimney caps.
Getting rid of birds is as easy as a weekend project and they are effective immediately and low cost.