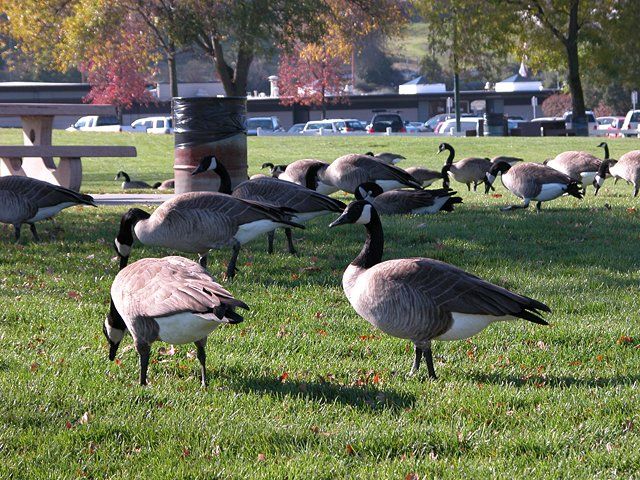 There are children's games where they run around and tap each other on the head yelling "Duck, Duck, Goose". You start running after each other when you say "goose". This may have started because geese are known to chase after people when they are feeling threatened. They are a fairly aggressive fowl and can be quite intimidating, especially for a child.
If you are experiencing Canada Geese on your property, it is a good idea to deter them, especially if you are a business owner and the general public may come in contact with the nuisance geese. It might not be good for business to see anyone running and yelling "goose". Goose control issues occur in lawns, parks, golf courses and camping sights to name a few. In all areas the serious problem is the health concerns that can come about from the droppings. Geese feces can carry different types of bacteria, diseases and parasites. They can contaminate water and the grassy areas where the geese graze and bathe.
Safe and Humane Goose Control
There are a couple of safe, humane and easily implemented goose control products that will get rid of geese. There is a liquid goose repellent and a sound deterrent that both work at keeping geese out of the area. If there area is contained and somewhat smaller, the liquid goose repellent would be ideal. It is applied anywhere that the geese are a nuisance. One gallon can cover 16,000 square feet. It lasts up to three months even if there is rain or watering occurring. It works by giving the geese an unpleasant sensation that goes through their nose, mouth and eyes. It does not harm the geese, just persuades them to go elsewhere. The active ingredient in the liquid repellent is a grape extract. It is not harmful to anything or anyone else.
For larger areas a sound goose deterrent is suggested. There are solar sonic goose deterrents that cover an acre of land and with additional speakers even more coverage. The sound deterrent device works by programming it for geese. It then will broadcast distress calls and predator calls designed specifically to scare away geese. There are over 22 different types of species programmed into the devices. Since birds hear at the same level as humans, ultrasonic devices that are currently on the market will not deter the birds. But the sonic devices will. With solar power, even during the dark times or cloudy days, the device will keep working to deter the geese. When they hear the calls they will flee the area.