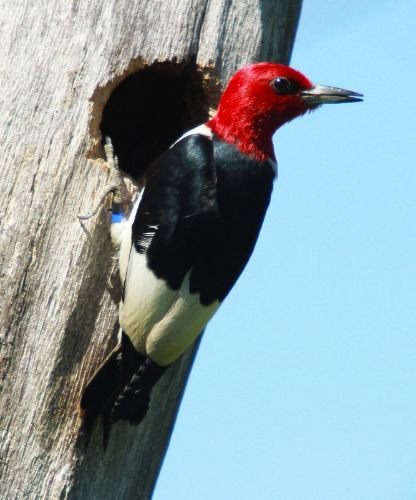 The woodpecker belongs to the Picidae family. There are over twenty species of woodpeckers that inhabit the United States. Woodpeckers are easy to spot. They are 7 to 15 inches in length and have brightly contrasting colors. Most of the males have red on their heads. Woodpeckers are dependent on trees for shelter and food. Most have extended their dependence on man-made structures including wooden fence posts, utility poles and buildings. Because of this, your home is susceptible to the woodpecker even if you do not have any trees in your yard.
Woodpecker Control Methods
Woodpecker control is needed now more than ever. Just about every home could benefit from some type of bird control product. When woodpeckers are the issue, the bird control methods are similar but the way they are used is unique.
Woodpecker netting is uniquely installed to stop the woodpeckers from drumming and ruining the side of your home. Woodpecker netting is secured to the outer edge of the overhang or edge of the building or home. The netting can then be secured using bird netting clips, staples or other attachments. The netting can either drape down the side of the structure with weights at the bottom of the netting to hold it down or it can be attached to the building using self-adhering hooks. The hooks can be found at just about any lawn or garden center.
Woodpecker netting is very lightweight and is made from U.V. protected polypropylene. The netting can be easily installed but also it is just as easy to take down, and store away until it needs to be re-used. Bird netting that is used for woodpeckers has a ¾" mesh, small enough for them not to get through the mesh.
Visual bird deterrents are another way to get rid of woodpeckers. There are woodpecker kits that contain visual deterrents that will scare the bird away. Flash tape is one of the visual deterrents in the kit. The kit also includes a Predator Eye Balloon. Both the tape and balloon have shiny reflective features that will frighten birds from the area.
Both methods of woodpecker control are safe and humane. They are also a very low cost and economical solution to get rid of woodpeckers from your home.