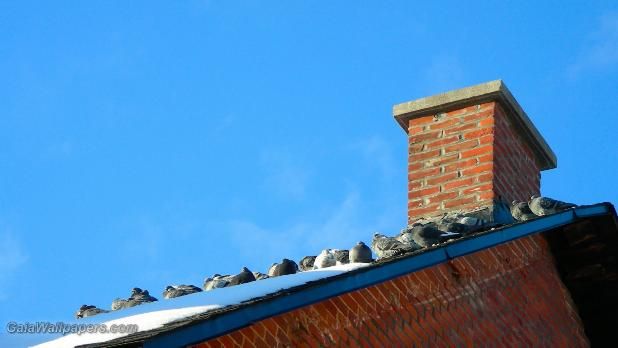 Rooftop damage to a homeowner or business owner usually means a water leak, or shingles or tiles coming loose and even damage caused by winds, rain, fire or overgrown trees before the thought of lack of bird control being the cause. The rooftop can be damaged by pest birds. Millions of dollars is spent each and every year on pest bird damage. Pest bird control is an easy solution and very cost effective in maintaining the condition of your rooftop.
When bird droppings accumulate on the rooftop, it is not only disgusting to think about and look at, or your neighbors to look at, but they are very damaging. Bird droppings are very acidic and harbor disease, molds, fungus and parasites. Many of the diseases can be transmitted to humans. Droppings and nesting materials are also detrimental to the chimney and ventilation systems. They can become clogged and the bacteria and disease can get into the ventilation.
Bird Control to the Rescue
What bird control means on the rooftop is creating an uncomfortable environment for the birds to land and roost or nest. Birds will often time fly to the same places each year to roost and nest. But if you have disrupted their cycle, they will be forced to find another place to land. Be watchful when they leave, and install bird control before they come back.
Make sure the area is clean before any installation of bird control products begins. Use an industrial strength, hospital grade disinfectant as this will wipe out the bacteria that the birds have left behind.
Physical bird deterrents such as bird spikes and solar repellers will stop birds from landing on the area. Bird spikes create an uncomfortable, if not impossible, area for the larger pest birds to land. The blunted spikes make an uneven surface and they cannot ruffle their feathers at all and land comfortably.
Solar repellers use motion to scare away large pest birds. The larger pest birds include pigeons, seagulls and crows. The solar repeller has a 5' telescoping rod that spins continuously to "sweep" the birds off the rooftop. They can also be placed on skylights and chimney caps.
Bird control products such as bird spikes and solar repellers will keep your rooftop bird free, which means damage free.